Under 18s are OK but let us know in advance (for legal alcohol reasons). Also be aware that JollyCon features mature content
Sadly the venue for 2019 is not wheelchair accessible. Future venues will be.
JollyCon 2019 Details
JollyCon is The Jollyboat Crew convention. We'll have two stages of comedy shows and music, six tables of boardgames, plus a schedule of fun activities, and socialising in a nautical-themed viking church.
| | |
| --- | --- |
| When? | , plus a meetup the next afternoon. |
| Where? | Liverpool (The Nordic Church) |
| How much? | £20 |
Travel
| | |
| --- | --- |
| Train | The venues are a 20 minute walk from Liverpool Lime Street station. |
| Car | The venue is easily accessible, though requires some city-centre driving. There is limited on-site parking, which we'll reserve for groups travelling together, crew bringing equipment, and those with disabilities. E-mail to request a space. |
| Megabus | Tickets on online around 1st June from Megabus UK, travelling from Birmingham, Edinburgh, Glasgow, Leeds, Leicester, London, and Manchester (plus fucking Coventry). |
| Air | For those who are flying in, Liverpool John Lennon is your nearest airport, and links easily to the city centre. Flying to Manchester may also be a sensible option. |
Last Year's Event
JollyCon 2018 was a huge success! We had tonnes of Jollyboat-themed shows and activities organised by talented performers and game-designers from around the country. We'd like to think all the volunteers who made it possible, and everyone who went the extra nautical mile by dressing up, bringing cakes and presents, or helping out last-minute.
The whole event ended with Jollyboat supporting their real-life tribute act MerryFerry.
Crewmates dressed up and on their way!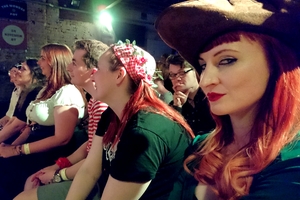 The crowd awaits the beginning of the Finale Show.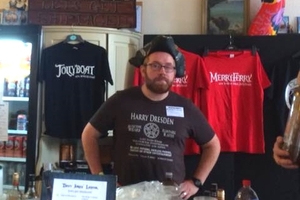 Trev, the barkeeper at Davey Jones Liquor (named by the crew) prepares to open for the day's drinking.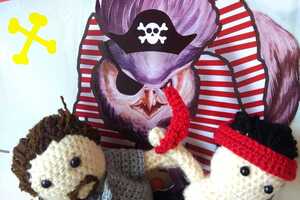 People brought many wonderful things - cakes to share, and special gifts for Tommy and Ed. Here we see knitted dolls, and a pirate owlbear.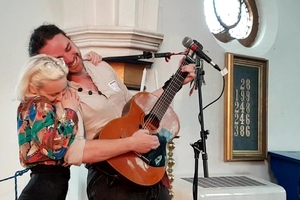 Ed played a selection of emotionally revealing solo songs. Here we see Lucy comforting him.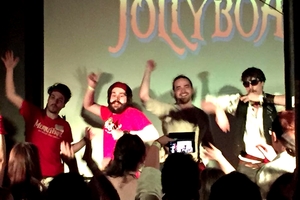 As the Finale, Thomas and Eduardo of MerryFerry teach the audience (and Jollyboat) the moves to their new dance song - The Jollyboat Slide.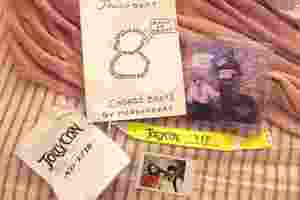 MerryFerry sign t-shirts for avid fans of their work.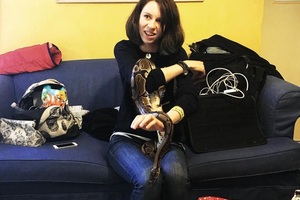 Lindsey was walking about with her snake, Dita Von Hiss. Here's our dear friend Tuesday meeting Dita, backstage.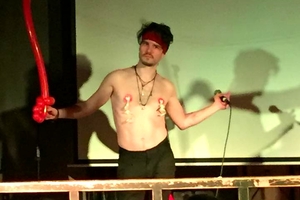 Tommy shows off his fan-made nipple tassels at the finale show.
Frodo presents the winner of the fan art drawing competition with a glittering prize - a can of premium spam.